UK Census - 1911
The 1911 census was taken on the night of Sunday 2nd April. This is the first census for which each head of the family completed it's own return on a separate sheet of paper. The writing in most cases is that of the head of the family. It also included some additional data not previously available; the number of years a couple had been married, the number of children born to them, as well as those who were living and who had died.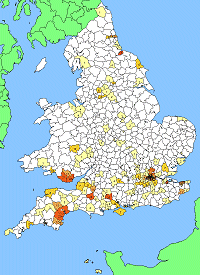 There is no surprise to find that the numbers of Rowdens in 1911 show a large increase from 1891. Over the same period there is also a spreading out of families northwards but particularly to the regions around Cardiff and the North East of England. The numbers of Rowdens living in Kent (largely from Sept 51) shows another rise and for the first time (ever) there are more Rowdens living in Kent that in Devon. From the records 1260 Rowdens may be found which, with another estimated 51 unfound individuals, makes a total of 1311. They are recorded living in 233 different parishes in 44 different counties.
The numbers of found Rowdens in each county are shown in this table.
View a map of the distribution of the surname in 1911 by Registration District.
There were some significant inventions during the previous decade (1900s):
First Electric Typewiter in 1901
The Wright Brothers make the first powered flight at Kitty Hawk in 1903
The Jukebox in 1906
The Ford Model T in 1908