UK Census - 1871
The census of 1871 was taken on the night of Sunday 2nd April.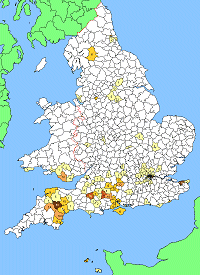 This census reveals a significant increase in the number of Rowdens compared with a decade earlier. An increase of approximately 16% to 761 Rowdens are found which, with another 28 unfound individuals, makes a total of 789. They are recorded living in 154 different parishes in 32 different counties.
The numbers of found Rowdens in each county are shown in this table.
View a map of the distribution of the surname in 1871 by Registration District.
Events during the previous decade (1860s) include:
The London Fire Brigade was established in 1865
Lewis Carroll publishes Alice's Adventures in Wonderland
The American Civil War
The First Transcontinental Railroad in the USA was built