Census Returns
UK Records
These pages provide some insight into the numbers and distribution of Rowdens (and Rowdons) found in the UK census during the period 1841 to 1891 and 1911. The census returns for 1901 is in the public domain and I have most of the Rowden records for it, but not yet the complete set. However, 1901 will be added in due course; along side other research it takes me about six months to cover each census.
The graph below shows the distribution of Rowdens for the decades 1841 to 1891 in the top eight counties Devon, Glamorgan, Hampshire, Kent, Middlesex, Somerset, Surrey and Wiltshire. The data for 1911 will be included when 1901 is completed. It shows quite clearly the trend of change in those counties: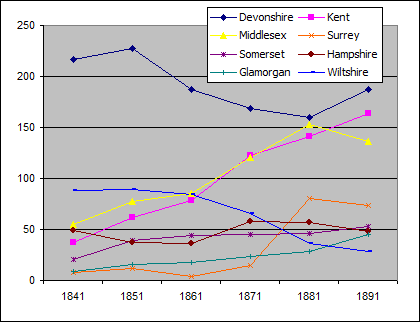 The numbers in Devon begin significantly greater than those in the other counties
After a peak in 1851 the Devon total drops markedly but recovers in 1891
The Wiltshire total drops steadily to a third of its 1841 value
The numbers in Middlesex, Kent and Surrey are all rising steadily
In Hampshire and Somerset, and those other counties not shown, the numbers remain largely unchanged
The UK pages currently include England, Wales, Isle of Wight, Isle of Man and the Channel Islands. Scotland will be included when time allows. The Republic of Ireland seceded from the UK in 1922, but Northern Ireland remains in the UK. Most records relating to Ireland prior to 1901 are lost, having being destroyed by fire.

Find more detail from the
USA and Canadian Records
Records from the US and Canada cover different periods. The US records available in the public domain cover every 10 years from 1800 until 1911 and those in Canada, from 1861 every 10 years until 1911, although these vary from state to state. At the moment an overview of these is not available from the website but will be included in due course when time permits.