UK Census - 1861
The census of 1861 was taken on the night of Sunday, 7th April.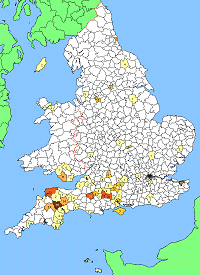 653 Rowdens are found in the census returns for 1861. Together with about 29 unfound individuals, this makes a total of 682. This is a small and unexpected increase on the 1851 census and is probably due to emigration, mainly to Canada but also Australia. They are recorded living in 133 different parishes in 32 different counties with 2 individuals 'at sea'.
The numbers of found Rowdens in each county are shown in this table.
View a map of the distribution of the surname in 1861 by Registration District.
Events during the previous decade (1850s) include:
Expansion of railways system taking over from the canal network
First transatlantic telegraph cable laid
Crimean War