UK Census - 1851
The census of 1851 was taken on the night of Sunday, 30th March.
This census improves on the 1841 edition in that more details are recorded. The additional details are relationship to the head of the family, condition, place of birth and disability. Being the first one to record the place of birth for each individual, this census is of significant help to the family historian. The amount of information being recorded remained the same until 1891.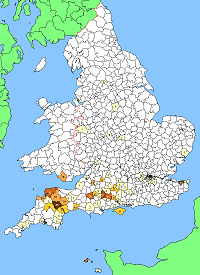 643 Rowdens (including Rowdons) are found in the census returns for 1851. Together with about 24 unfound individuals, this makes a total of 667, an increase of 7% on the 1841 figure. They are recorded living in 130 different parishes in 27 different counties. This year the parishes of Whitstable and Seasalter in Kent are included in the surviving records.
The numbers of found Rowdens in each county are shown in this table.
View a map of the distribution of the surname in 1851 by Registration District.
Events during the previous decade (1840s) include:
Crop harvests failures in Ireland lead to death & emigration
First use of general anesthesia
Unrest in Europe led to mass emigration of refugees to United States