UK Census - 1881
The 1881 census was taken on the night of Sunday 3rd April.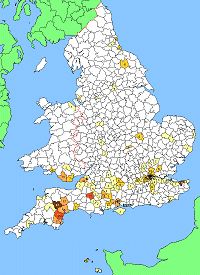 This census reveals another significant increase in the number of Rowdens in the ten years since the previous in 1871. 847 Rowdens are found which, with another 44 unfound individuals, makes a total of 891. They are recorded living in 162 different parishes in 31 different counties.
The numbers of found Rowdens in each county are shown in this table.
View a map of the distribution of the surname in 1881 by Registration District.
Events during the previous decade (1870s) include:
The invention of the light bulb
The invention of the telephone
The publication of Jules Vernes 'Around the world in 80 days'
Jeanne Calment, born 1875, would eventually become the longest-living
human being in recorded history