Diana Hope Rowden - WW2 SOE Agent
Diana Hope Rowden was born a month into 1915, barely a few months after the start of World War One. Born to Aldred Rowden and Christian his wife, she entered an extended family of Army Officers, Lawyers and Clerics. Her father was a major in the army, his father a barrister and earlier ancestors had served as chaplains to the Royal Family.
While Diana was still young, her parents separated and Mrs Rowden decided to move to the French Riviera to bring up her daughter and two younger sons. Here they grew up bilingual and enjoyed a easy, relaxed youth. However, concerned for her children's education, in the late 1920s Christian Rowden and her family returned to England to live near Mayfield in Hampshire. Diana was subsequently sent to a boarding school at Limpsfield in Surrey but did not find it easy to mix with her fellow students.
Her education complete, Diana and her mother moved back to France, where she started work in free-lance journalism. With the outbreak of war, her mother again returned to England but Diana sought to serve with the French Red Cross and was assigned to the Anglo-American Ambulance Corps of the British Expeditionary Force. In 1941 Diana rejoined her mother and together they took a flat in Kensington.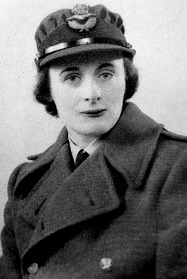 France was now under German occupation and with her passion for the country Diana was keen to help directly in the war effort. In the Autumn of 1941 she enlisted in the WAAF narrowly missing an opportunity to work in SOE (Special Operations Executive). However, during a brief hospitalisation in the West Country Diana met a convalescing pilot who had been working for the French Section of SOE. Demonstrating to him many of the qualities required of special agents Diana was later contacted and in early 1943, seconded to SOE.
In June 1943 Squadron Officer Rowden, WAAF returned once more to France, this time by air as a SOE agent. She was dropped off in a moon-lit field near Angers and from here she moved to eastern France near its border with Switzerland. Her papers showed her name as Juliette Therese Rondeau and her field name among fellow agents was Paulette. Here she worked as SOE agent until 1944 when, with other female agents, she was detained by the Germans at their concentration camp at Natzweiler.
A few months later, on a Thursday in July, at the age of 29, she and her colleagues were subject to a gruesome ordeal, dying a slow and painful death. Full details have emerged only recently but after the war a plaque was set in the north wall of St Paul's Church, Knightsbridge, London as a commemoration to their life giving service during World War II.
The children of St Mark's School, Hadlow Down made this fascinting video about Diana Rowden in 2014.
Diana was posthumously awarded the French war decoration, Croix de guerre.
In 2017, having been captivated by her role in the S.O.E, Gabrielle McDonald-Rothwell published her book about Diana's life - "Her Finest Hour".
For more information on the web:
For Diana's full story, read "Flames in the Field" by Rita Krammer.

Find Diana and her family in sept 42 pedigree chart.